Daniel Bruehl: Without soccer jails would be crowded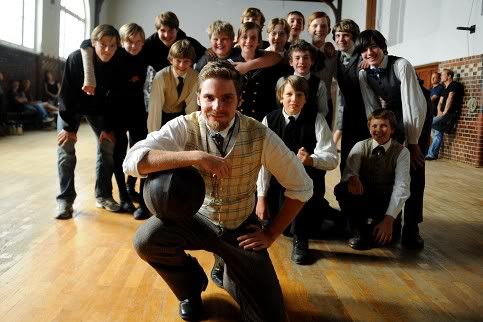 New article in WELT Online about the movie "Der ganz große Traum des Konrad Koch". Interview with Daniel Brühl about filming, soccer, teams he supports and players he has met or would love to meet!

Read full article… (in German only)

 source: Welt Online / Sport
English Translation © Dominique Sundt 2010. I do not claim any rights. All content belongs to its respective owners. I do not take any responsibilty for the quality or correctness. All possible errors are subject to correction. No liability assumed! I am not Daniel Brühl nor in any way affiliated to him.


Text below photo: Daniel Brühl while shooting a scene in a gym in Berlin-Köpenick. Around him are those children who play the students of Konrad Koch in the movie. The filming crew provided and furnished the gym with historical balls and old ladder for some of the scenes

Article by Julien Wolff

The whistle is still hanging around his neck. Daniel Brühl, 32, puts one hand into his pocket and watches a crowd of children playing with the ball in a Berlin elementary school. Wearing the vest and checkered pants he looks like a 19th century soccer coach – and today he really is. The actor (Good bye, Lenin!) is shooting one oft he last scenes of his new movie "Der ganz große Traum des Konrad Koch". (Release date 2011)

He is playing the title character who organised the first soccer game in Germany back in 1874. Koch was a teacher on a highschool (gymnasium) in Braunschweig who wanted to arouse interest in his students fort he English language. So he let them kick around, shouting orders in English. Kicking with a ball he had ordered from England. Learning vocabulary in a different way. The game between two student teams was an experiment – and turned into the hour of birth for European soccer. Koch later wrote down the first few German rules and established the sport against the refusal of colleagues and parents who discarded soccer as an "illness" and rubbish.

The sports-mad producers Raoul Reinert and Anatol Nitschke did a lot of research throughout several years. They also chose Brühl as main character because he loves soccer just as much. Born in Spain and living in Barcelone and Berlin, he often attends matches of his favourite teams FC Barcelona and 1. FC Köln (Cologne).

WELT ONLINE: Mr Brühl, cross your heart: Did you know anything about Konrad Koch before starting to shoot the movie?

Daniel Brühl: No. When I read the script, I couldn't believe the story. It was crazy to notice that I – as a fan – didn't know for such a long time how soccer came to Germany. I did some reserach on my own and was immideately fascinated by Konrad Koch, his life and the script.

WELT ONLINE: Koch established soccer against all odds. Does the sport still have  the same power as back then?

Brühl: Definitely. Soccer ist he one sport that affects more people than any other, releasing some really mad emotions. Just take the dramatic return match between Werder Bremen and Sampdoria Genau, at the Champions League qualification, quite recently. The euphoria among the Bremen fans after the goals, just incredible. During the World Championship in South Africa I was shooting in France. Suddenly the French were cheering for us Germans. That was amazing. Something like that only happens at soccer.

WELT ONLINE: But do you think Koch would like today's soccer? His sport turned into a billion-dollar-business.

Brühl: He probably wouldn't like the drawbacks and betting scandals and the capitalistic thoughts behind it with all those ridiculously high transfer fees. But the huge popularity, that's something he would like. I think we all agree that there's more positive than negative about soccer. It's immensely important as a merging element. If there was no soccer, people would probably start bashing each other's heads. The crime rate would increase, jails would be crowded. Soccer is an important outlet for many people. There they find other like-minded people, release their frustration and be happy together. Soccer is a great invention. There are moments when I just have to watch a game. I just can't do otherwise…

WELT ONLINE: After you've been dealing so much and so intensely with the history of soccer before and during the shooting of the movie: will you see future matches through different eyes?

Brühl: I've definitely grown even more attached to the sport than before.
WELT ONLINE: Are professional soccer players also acting?

Brühl: Definitely. The feel the enourmous pressure and are constantly in the publis focus. To able to react to fans, media, intrigues within the team, they have tob e diplomatic. And sometimes they have to pretend or act… Especially at deliberate dives during a game…

WELT ONLINE: Does it annoy you when one of the players "acts" on the playfield? Or do you simply acknowledge his acting talent?

Brühl: It annoys me. Except when my team does that. I'm such a big fan oft he FC Barcelona and the First FC Köln. But even then… it's not really cool. I have quite many Italian friends, but at soccer they tend to really exagerate, being overly dramatic.

WELT ONLINE: So you're rather with Lionel Messi than Cristiano Ronaldo?

Brühl: Yes. What Messi represents is definitely something completely different than Ronaldo. He's probably the world's best soccer player. Nevertheless, he's still very honest and says he was lucky and is thankful for his team after each goal. He's like a big boy who loves playing soccer. He's one oft he reason I love watching games oft he Spanish League.

WELT ONLINE: Spain dominates World Soccer. Do you think it will stay like that throughout the coming years?

Brühl: On the one hand, they are at the zenith of their success. I think they will be able to keep the level of their games for a few more years. It has a lot to do with the FC Barcelona. Their strength was of vital importance in South Africa. Compared to Real Madrid, Barcelona has been investing into promoting and supporting young players and talents. That pays off. Just look at Messi, Xavi and Iniesta. Real Madrid on the other hand "created" a team with money. I like the Barcelona concept better, even though Real has a pretty good team right now.

WELT ONLINE: Better than the Barcelona team?

Brühl: It's going to be hard for Barca to become champion again. I will definitely watch each match.

WELT ONLINE: With Mesut Özil and Sami Khedira, Real has two players from the Bundesliga. Which German player would you love to see in the Barcelona team?

Brühl: Thomas Müller.

WELT ONLINE: Why?

Brühl: He's a fantastic player but keeps his feet firmly tot he ground. And he's going to be even better. Since Özil and Khedira we know that international teams (soccer clubs) are watching German talents ever since their fantastic achievements during Worlds. Much more than before. But they deserve that.

WELT ONLINE: You live in Barcelona and Berlin. In Spain you are watching soccer superstars, back into our (German) capital there are only two Second League clubs – Hertha BSC and the First FC Union. Is that like a cultural soccer shock?

Brühl: Maybe. A little bit. I've grown up in Cologne (Köln) and, as I said, a fan oft he FC – but I still hope for a quick return of Hertha back into the Bundesliga. A capital without first class soccer, that's bitter.

WELT ONLINE: You've often seen Raul play in Spain. What do you think he is now capable of at Schalke 04?

Brühl: He's still very capable. Raul will still score well. I don't think he's too old.

WELT ONLINE: Is it true that you've been in a taxi with the "great" Johan Cruyff?

Brühl: Yes. Just before a Barcelona match I got stuck in a traffic jam and couldn't get tot he stadion. Suddenly a producer I was friends with called me – he was Cruyff's neighbour. He wanted to cast me and invited me into a VIP box. I've only exchanged a few words with Cruyff. I almost didn't get in because I wearing jeans. In the Barcelona VIP boxes you are dressed like going tot he opera, there's a dresscode. Only after Cruyff and the producer talked with some kind of "bouncer" I was allowed in. And I was just thinking: Guys, it's just soccer!
WELT ONLINE: And you've been flying in a learjet with Samuel Eto'o.
Brühl: That was a coincidence. I was in Cannes at the film festival – and Eto'o was there because of some charity event. I didn't get any return flight and my agent organised something so I could fly with Eto'o on his learjet. I think it's fascinating to meet soccer players. Then I am all fanboy again. I may be invited at Gerard Pique's for dinner, one of my friend's is his neighbour. And I know now where Messi loves to dine out. (Laughs.)

WELT ONLINE: Where?

Brühl: An Italian restaurant in Barcelona. I've heard he always orderst he same: Milanese (a meat dish) and afterwards strawberry icecream.
WELT ONLINE: Have you been there yourself?

Brühl: Yes. Unfortunately, I didn't meet him there. But honestly, I am dreaming of taking a picture with Iniesta. He's my hero.

WELT ONLINE: Your new movie is called "Der ganz große Traum des Konrad Koch". What's the big soccer dream of Daniel Brühl?

Brühl: Germany becoming the next World Champion. To my mother's horror and dismay I was supporting the German team against Spain at a Worlds semifinal. They have just been so good. It was great to see such a young and talented and changed team. They have a big future. If they continue to play like that, they could be European Champion in 2012 and two years later World Champion. A double, like Spain – that would be awesome.